Stories
Hearty Breakfasts In Pulaski County
Hearty Breakfasts in Pulaski County
February 1, 2023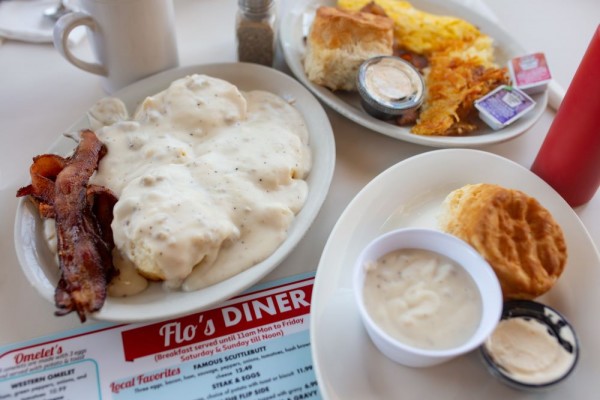 A hearty breakfast sets the tone for an awesome day in Pulaski County. Skillets, pancakes, waffles, bacon and eggs… Anyone else getting hungry in here? Our restaurants and diners set the bar high!
Unique Breakfast Discoveries
Drachenfutter
Waynesville
Seek out the unique in Waynesville with German pancakes, Belgian waffles, quiche, or stuffed French toast? Dine-in and enjoy the relaxing atmosphere or order on the go — with a hot cup of coffee in hand, of course. Breakfast is served all day.
"Our restaurant appeals to people of all ages, vegans or non-vegans!" — Olivia, Cook
Flo's Route 66 Diner
Saint Robert
Flo's Scuttlebutt is a signature item, a breakfast full of "a little bit of everything" that ends up as a "full plate of deliciousness." This savory dish includes hashbrowns, scrambled eggs, onions, peppers, bacon, and sausage covered in hot melted cheese. Breakfast is served all day.
Saint Robert
Imagine freshly baked souffle warm from the oven. Is your mouth watering yet? Panera Bread souffles are available in spinach and applewood-smoked bacon, spinach and artichoke with romano cheese, or the four cheese — Neufchâtel, cheddar, parmesan, and romano cheese.
"Panera's souffles are hot, fresh, hardy, and consistent." — Amanda, Panera Associate
Traditional Breakfast Favorites
Country Café
Saint Robert
Hardy corned beef n' hash, ham, or ribeye steak breakfast platters will satisfy a hardy appetite. Try one of their traditional three-egg omelets — the satisfying Philly steak, Spanish, or veggie.
Cracker Barrel
Saint Robert
A customer favorite is the Old Timer's Breakfast, a breakfast platter filled with the traditional breakfast fare. Order the hashbrown casserole! Dine in or order ahead for curbside service. Breakfast is served all day.
"Diners love our family atmosphere and the Southern comfort of Cracker Barrel's signature food!" — Debra, Server
Haute Dawgs
Waynesville
Try the Morning Daw, featuring delicious sausage link wrapped in a fluffy silver dollar pancake, topped with real bacon crumbles and warmed maple syrup. Papi's Tostada will make you smile, and the waffle sticks are just plain fun! Great for the grab-and-go or relax at the outdoor patio of the Roubidoux Plaza.
Dixon
Now serving breakfast specials Thursday-Sunday, belly-warming breakfast sandwiches and wraps.
JCJ's Place
Saint Robert
The most popular breakfast item is the Morn'n Breakfast Platter, featuring your choice of bacon, sausage, or ham steak, eggs, potatoes, and toast or biscuits. Bring the stretchy pants for a full order of biscuits and gravy! Breakfast is served all day.
"JCJ's offers up great food and is a great place to relax. We have seating in and outdoors!" — Jill, Co-owner
Sam's Sweet Treats
Waynesville
Open for breakfast-on-the-go. Try freshly baked biscuits with egg, cheese, and your choice of bacon, ham, or sausage. Served with fresh brewed Combat Coffee!
Great Breakfasts All Day
Paradise Deli
Waynesville
Nestled on the north side of the square in Waynesville, this charming European deli known for their schnitzels, but the breakfast is amazing too. The Farmer's Skillet — also known as "Bauernfruchstueck" — is a customer favorite, featuring three eggs, ham, potato, and onions with a side of toast.
"Paradise Deli is one of the last German delis in-state." — Paul, Server
Route 66 Diner
Saint Robert
Check out the skillets — varieties include country fried steak, Southwestern, Western, and meat lovers. The senior breakfast menu is also available for those lighter appetites. Breakfast is served all day.
"Biscuits and gravy are a top seller — good ole fashion food!" — Oksana, Manager
Waffle House
Saint Robert
We all know waffles are where it's at — and the pecan waffles are delicious! Kids and adults will scarf up chocolate chip or peanut butter chip waffles! Try a warm omelet or Texas melt. Breakfast is served all day.
Westside Café
Waynesville
Try traditional two farm fresh egg platters with choice of meats, including hickory smoked bacon, cured breakfast ham, beef hash, country fried steak, or hand-cut ribeye. Add a hot, fresh cinnamon roll to go!
"Our café is small and personal. You will feel right at home with our experienced staff." — Samantha, Server
Z-Loft Bar & Grill
Saint Robert
Start the day right in this bright, airy, contemporary restaurant. Traditional breakfast choices are available to everyone, not just those making their home away from home at the hotel.
Weekend Brunch
Your Sunday will start off amazing with the delectable menu choices and bottomless mimosas. The delicious banana foster pancakes are a welcome treat to your tastebuds!
Hopper's Pub
Waynesville
Order the breakfast quesadilla or the awesome Good Morning Burger. Hopper's also offers a warm and friendly atmosphere.
Piney River Tap Room – (Waynesville) Try their brunch every other Sunday, this isn't your mother's brunch! Chose from different specialty breakfast pizzas or indulge in their signature bloddy lizzie or beer mosas, accompany that with occasional live music and it's the place to be!
Route 66 Taco & Wing Company
Saint Robert
Route 66 Taco & Wing Company offers a weekend brunch from 10:28 a.m. to 3 p.m. with a variety of breakfast burritos to choose from. Stuff those burritos with your choice of bacon, sausage, chorizo, or ham and topped with fried potatoes, queso, scrambled eggs, cheese, onions, and peppers.
"Chicken and waffles are a popular item among our brunch guests." — Steve, Co-owner
The Hub Restaurant – (Saint Robert) Start off your Saturday or Sunday mornings with a choice of omelets, biscuits and gravy, or give the wonderful strawberry sugar waffles with sausage a try! Breakfast begins at 8 a.m.
28 Shots - (Dixon) Serving up all you can eat buffet on Sunday that includes two kinds of egg casseroles, scrambled eggs, sausage, bacon, biscuits & gravy, fried potatoes, and french toast.