Outdoors
Outdoors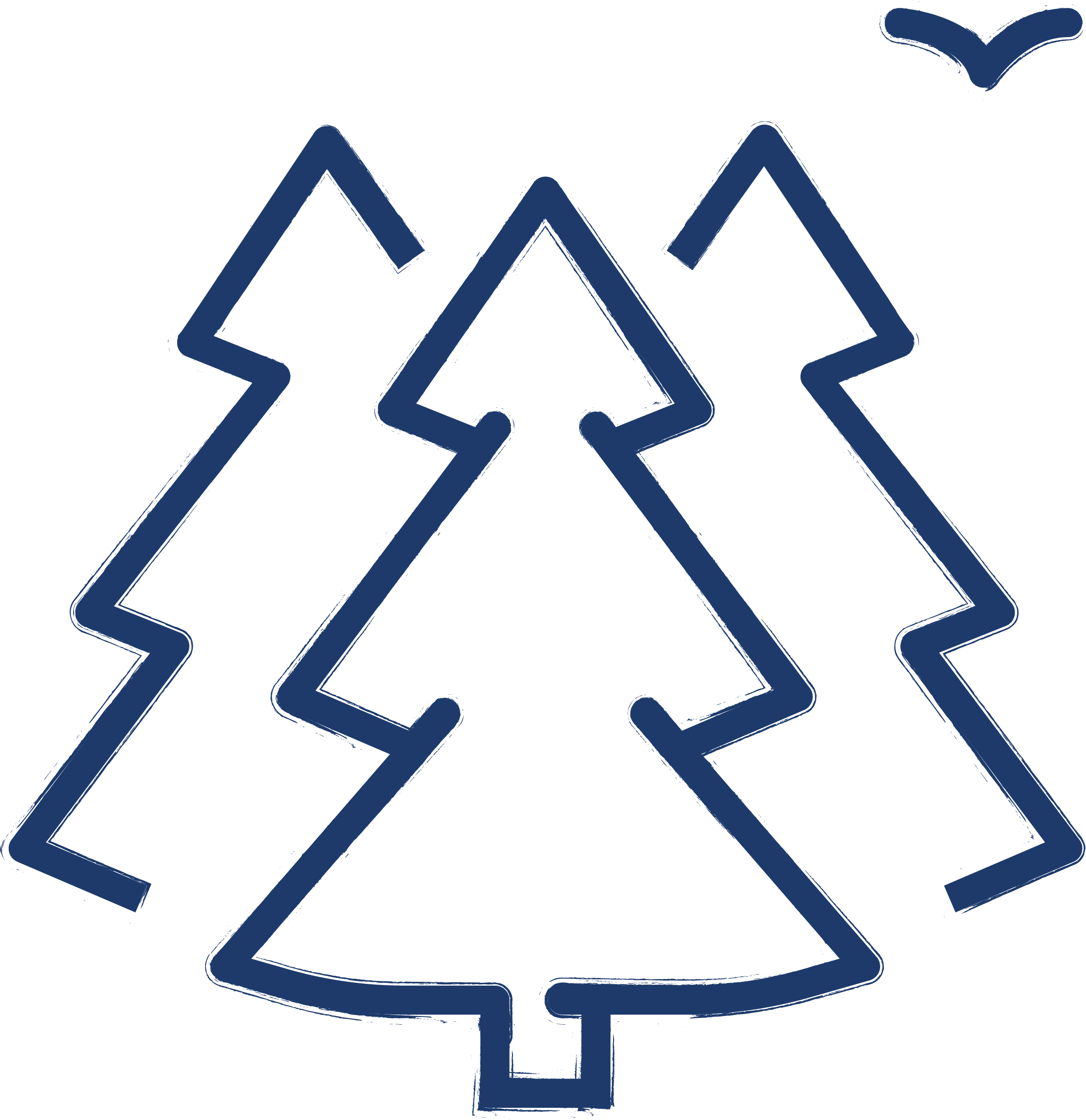 Outdoors
A Breath of Fresh Ozark Air
You can't beat a day on the water, basking in the warm sunshine as you peacefully drift downstream. Pulaski County is the perfect place to stash your phone away and just unwind with nature. The numerous rivers and waterways of Pulaski County make it a premier destination for float trips by way of kayak, canoe, paddleboard, or innertube — not to mention some of the best fishing you'll ever find.
Pulaski County Riverways
Pristine and pure, the waters of Pulaski County vary in views and experiences, from the wide and swift Gasconade River to the meandering, spring-fed Big Piney River.
Winding through more than 100 miles of Pulaski County, the Gasconade River provides an exciting adventure for floaters of all ages. The Northern-Eastern section drifts past bluffs and rural homes while the Western section glides through farmlands ending at the Route 66/Gasconade Bridge near Hazelgreen. Floaters putting in just north of Waynesville on a stretch commonly known as "the Narrows" will be treated to a 15-mile float — ultimately translating to 2 miles as the crow flies.
On the eastern border of Pulaski County, the Big Piney River cuts through 33 miles of the Ozark landscape, fed by the springs that keep the water level consistent — even during droughts.

Welcome to Smallie Heaven
Renowned as incredible fighters, smallmouth bass are coveted by anglers for the challenge that comes with reeling in a leaping, thrashing, trophy bass. Pulaski County waterways are the perfect spot to catch a lunker bronzeback — in fact, the 17-mile stretch of the Gasconade River Smallmouth Special Management Area has been described as "magical" by Game & Fish magazine. The smallie spectacular continues on the Big Piney, where the smallmouth fishing has been described as "second to none" by Driftwood Outdoors columnist Brandon Butler.
Ready for a little fly fishing? Roubidoux Creek is home to white and red ribbon trout areas — some of the most closely guarded secret spots in Missouri. Additionally, Stone Mill Spring — part of the Mark Twain National Forest at Fort Leonard Wood — features a white ribbon trout area along with disabled parking and accessible areas.
An Angler's or Hunter's Dream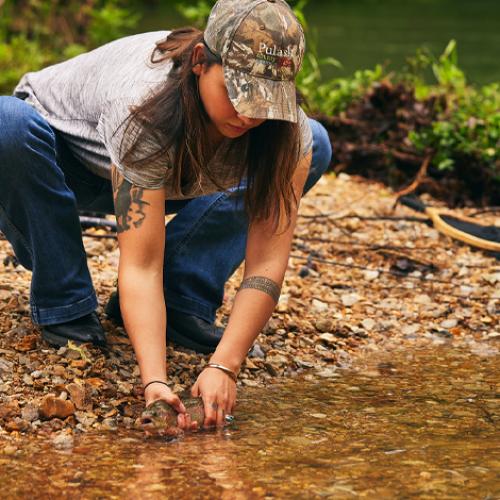 Anglers wishing to catch their limit or just wet their line for fun, will find Pulaski County to be a fishing gem. Ozark beauty combined with clear waterways make a fishing atmosphere like no other. Review the Missouri fishing and hunting regulations to ensure you have the hunting, fishing, or trapping permits that are required.
An Effortless Floating getaway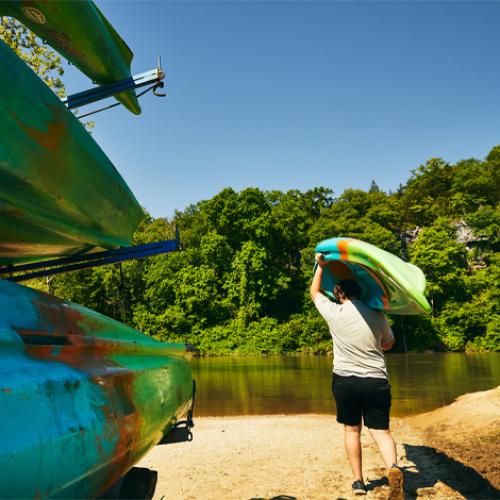 Getting your gear together for your next big float adventure or fishing trip can be a hassle — the last thing you need when you're trying to relax. Thankfully, the outfitters in Pulaski County are here to lend a hand. Our outfitters can help plan your next trip down to the equipment. Rent your vessel of choice along with a few life jackets and a bag for litter. Before you know it, you'll be taking in the majestic, natural beauty of the Ozarks as you drift peacefully downstream.
Escape to the Great Wide-Open
The rolling, expansive Ozarks really puts the "great" in great outdoors. Pulaski County is home to 39,000 acres of Mark Twain National Forest, perfect for hiking, backpacking, and camping. Rather you rough it and pitch a tent, get fancy and rent a glamping tent, bring your own RV or rent one on site, or snuggle up in a rustic or modern cabin — no matter what your preference, you're guaranteed an eye-popping backdrop!
Dive into Fun
The cool, sparkling waters of Roubidoux Spring are a summer pastime here in Pulaski County. Naturally fed from beneath the earth, the spring is a favorite swimming hole for both locals and visitors. What you may not realize as you dip your toes in the refreshing spring waters is the system of submarine caverns that twist and wind beneath the surface, a prime destination for certified cave and cavern divers.
Have a (Disc Golf) Fling
With stunning, clifftop views and a gorgeous, Ozark backdrop, the 18-hole Hanna Hills Disc Golf Course is the perfect place to enjoy the great outdoors and practice your skills at one of America's fastest-growing sports. Featuring elevation changes throughout, this course is sure to be one of the more scenic challenges you'll face.
Fresh from the Field
We can't explain it, but doesn't food taste so much better when you've worked for it? The agritourism destinations around Pulaski County offer the freshest bounty of fruits and vegetables straight from the field. Visit Humboldt Springs Farm for blueberries and blackberries, take a trip to the year-round Pulaski County Farmers Market in Waynesville, or visit one of the seasonal markets for produce, eggs, soaps, crafts, plants, meat, baked goods, and locally roasted coffee. As summer turns to fall, get into the autumn spirit at one of many seasonal festivals offered in Pulaski! Choose from Oktoberfest events to fall festivals, family friendly trunk or treats to spooky haunted attractions, or even a haunted float trip on the river. Pick one or more of these activities to make fall fantastic!