Trail of Tears Itinerary
Trail of Tears Itinerary
Trail of Tears Itinerary
Follow a Historic Tragedy
Waynesville's lush Laughlin Park along the Roubidoux Creek played a part in one of the most tragic periods in American history — the Trail of Tears. From 1837-1839, the U.S. Government forced the Cherokee and four other Native American nations to leave their homelands and relocate to Indian Territory in present-day Oklahoma. Along their trek of more than 800 miles, some camped along the Roubidoux Creek.
Stop 1: Cherokee Encampment
The City of Waynesville partnered with the National Park Service to establish a memorial alongside a concrete walking trail. Memorial storyboards throughout the park tell the history of the area and the trials and tribulations of the Cherokee. To the left of the memorial, a rural pathway weaves along the river leading to the Roubidoux Spring. This spring bubbles and gurgles with an average of 37 million gallons of fresh water a day. Certified cave and cavern divers from around the world access the underwater cave through an entry below the boardwalk. The spring is also a favorite swimming hole for locals. On occasion, meet up with fly fishermen and folks kayaking the riverway. The encampment is open year-round; no appointment is necessary.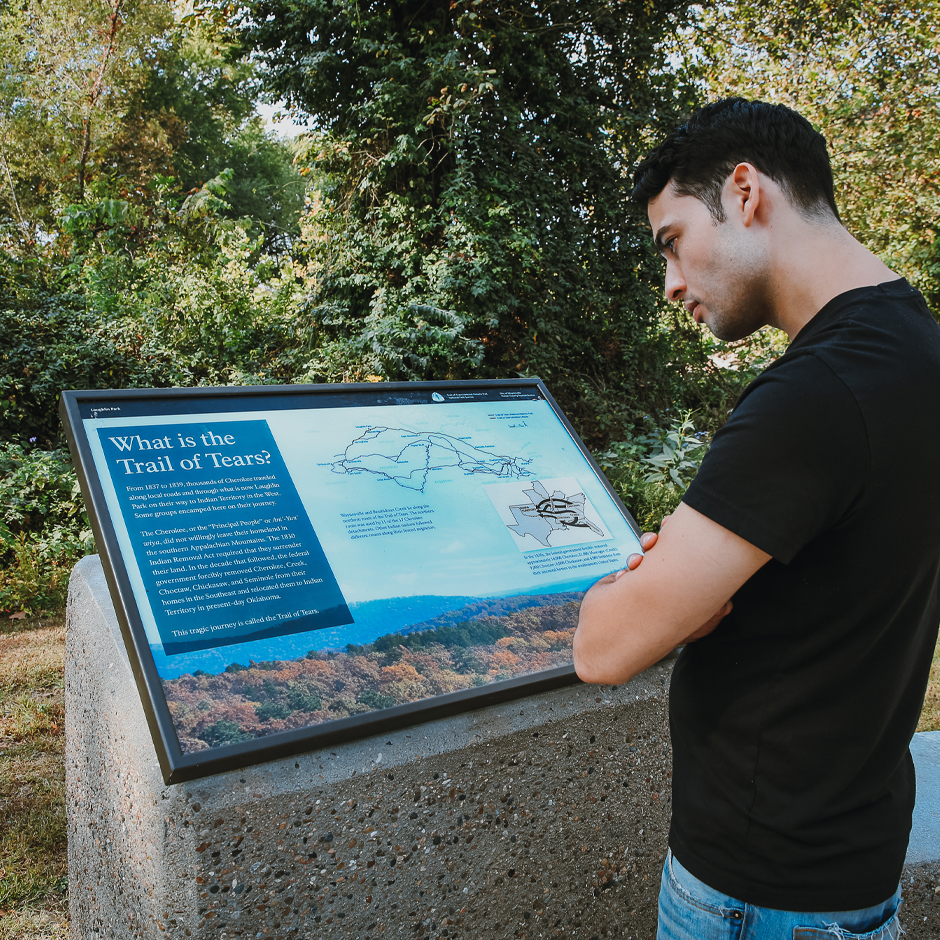 Stop 2: Museums
As you explore Waynesville, download the Waynesville Walking Tour Brochure or interactive map, at our Digital Download Page, which features historic information and imagery. The museums in downtown Waynesville — the Old Stagecoach Stop Museum and the 1903 Route 66 Courthouse Museum — feature exhibits and information on the Trail of Tears along with Civil War and local history and the 1903 Route 66 Courthouse Museum also features an extensive arrowhead collection. Both museums are open from 10 a.m. to 4 p.m. Saturdays, April through September, but call ahead for availability. Special appointments can be made for tours, if guides are available.
Stop 3: Heritage Cultural Arts Center
As you learn more about the Trail of Tears, book time at the Heritage Cultural Arts Center (417 Route 66 West, Waynesville). Located just east of the Roubidoux Bridge, your hosts will share their knowledge of the Native American people, their traditions, and their way of life. They also own the Trail of Tears & Herb Gardens near Jerome. This amazing property features unique rock and concrete figures displayed across the hillside, was originally created by Larry Baggett, and recently restored by Marie Ryberg. Call ahead for an appointment.