Stories
Family Fun
Family Fun
February 1, 2023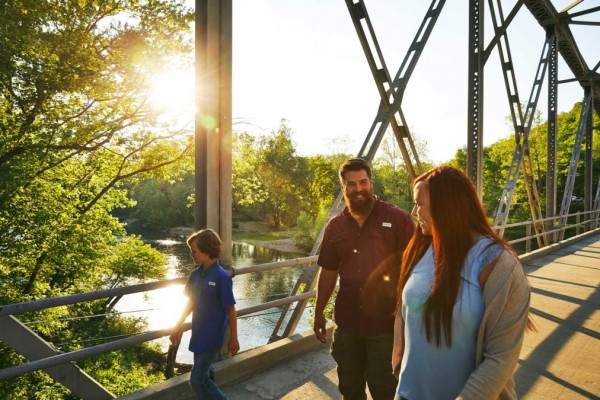 Explore the Ozarks with those closest to you.
Pulaski County is more than just a getaway for Mom and Dad — exploring the beautiful central Ozark scenery and Route 66 curios is fun for the whole family! Check out some of the family-friendly activities you'll find around Pulaski County and start planning an affordable getaway the kids will be talking about for years!
The Great Outdoors
Of course, no trip to Pulaski County is complete without exploring our beautiful outdoor waterways. A peaceful float trip down the Big Piney and Gasconade rivers will give kids a chance for some fun in the sun — and parents a chance to kick back and relax. Thankfully, our friendly outfitters always keep younger floaters in mind too with appropriately sized life vests and will even alert you when the waters may be a little too much for children.
And in Pulaski County, fun on the water goes far beyond rafts, inner tubes, kayaks, and canoes! Take a plunge into the brisk spring water at Roubidoux Spring in Waynesville. Teach your kids a new life skill as you cast a line in our nationally renowned smallmouth bass fishing areas. Sleep under the stars at our many campgrounds and RV parks. Or just pack a lunch and host a picnic along our river shores and teach your kids how to skip stones across the gently flowing waters.
Explore The Mother Road
Give your family a glimpse of a younger America along Historic Route 66. With more than 33 miles of the storied highway carving its way through Pulaski County, your family will revel in the beautifully preserved historic buildings and numerous outdoor sites that line the byway, along with some surprising, cheeky fun along the way.
One destination your family can't afford to miss is the Uranus Towne Center, located along Route 66 just east of Saint Robert. Home to the Uranus Fudge Factory and General Store, plus a sideshow museum, mini golf, and all sorts of bizarre sights, Uranus is one attraction that will elicit a few giggles from your kids — and honestly, your adults too!
More to see and do!
The 2022 Pulaski County Getaway Guide is packed with more activities for you and your family, from historical sites to foodie trails and lodging options. Download the 2022 Getaway Guide and plan your trip today!