Thrift & Sweets Tours
Thrift & Sweets Tours
Thrift & Sweets Tours
Shop & Nosh Your Way through the Ozarks
Thrifting and antiques are worth traveling for — add flea markets, gift shops, and sweet treats to the mix and you have the recipe for a memorable weekend experience! Our two-day Thrift & Sweets Trail itinerary is a useful guide full of helpful suggestions to plan your Pulaski County shopping adventure. Add a bin store or two and you will need to plan three or four days!
Treasures can be found around every bend in Pulaski County. Unique experiences, community art, mouthwatering meals, fascinating history, and amazing views are plentiful as you meander along Pulaski County's country backroads to peaceful, small towns with quirky charm.
A Vintage Venture
Spend the day wandering into our storefronts. Poke around every corner of our antique stores. Discover colorful murals. Browse an art gallery. Shop our unique boutiques. Soak up the unique history of Waynesville as you stroll the square. Lose yourself in the nostalgic Americana that defines Route 66. Indulge your taste buds at our locally owned restaurants. Indulge your sweet tooth at our coffee shops, cupcakeries, and creameries.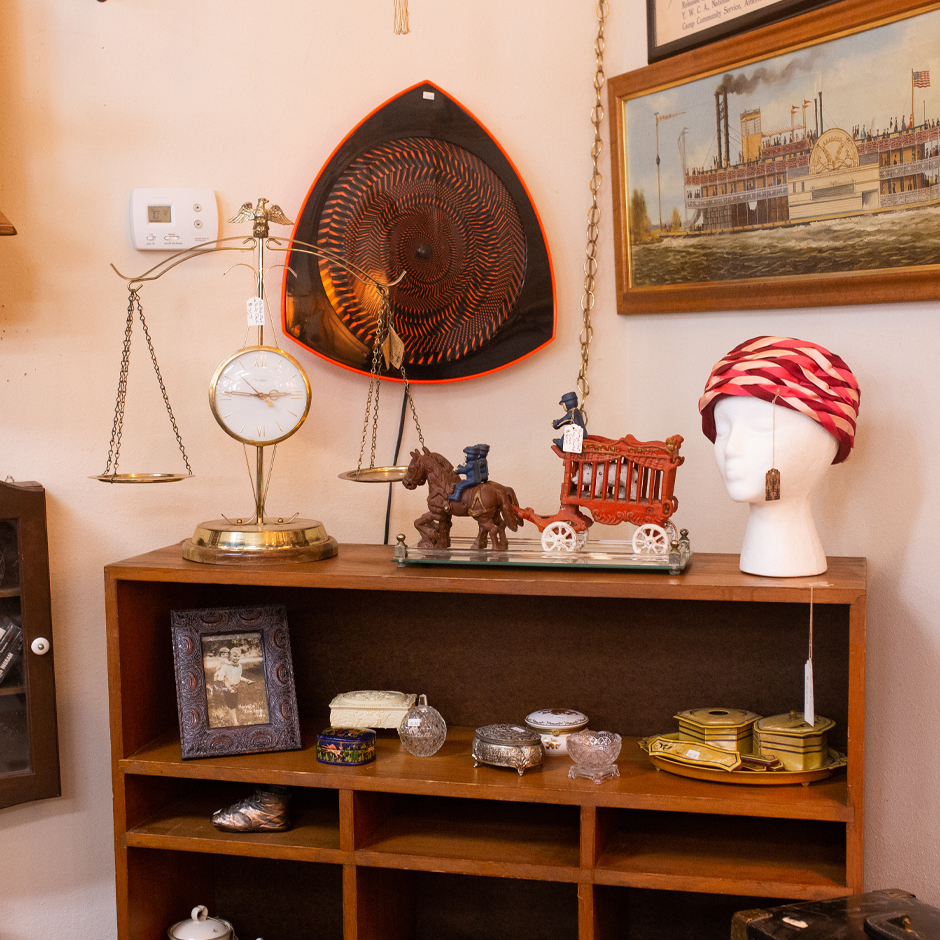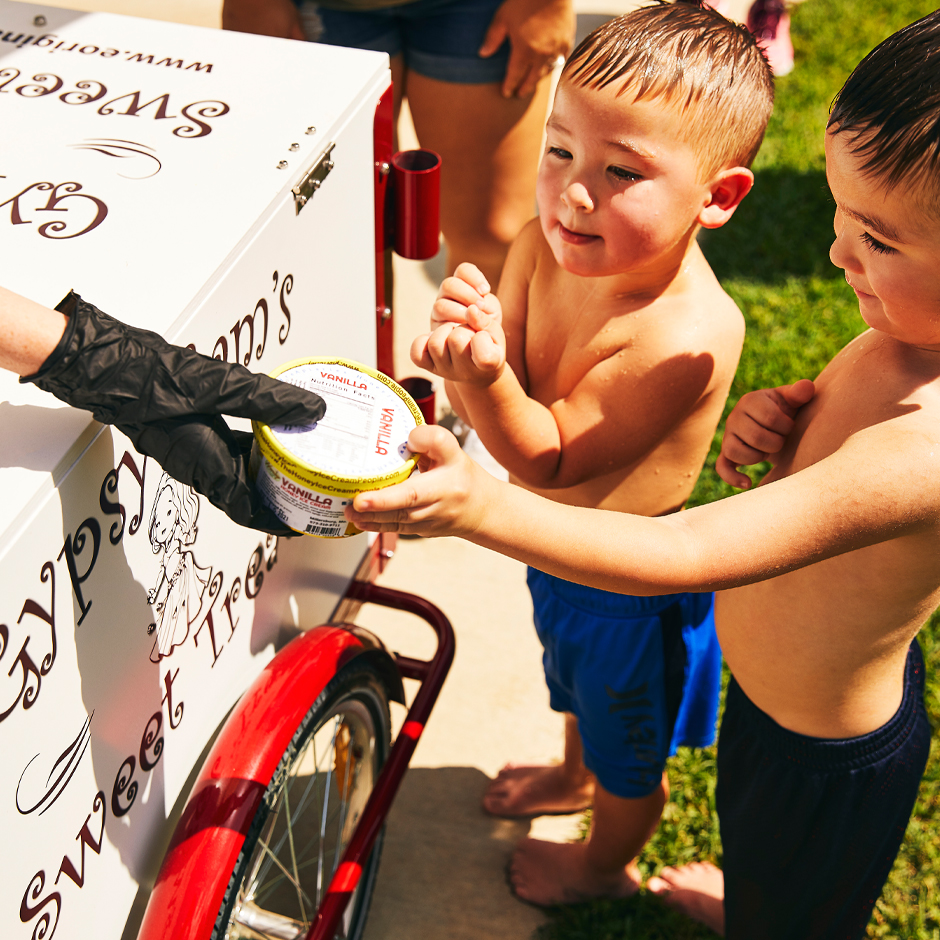 A Memorable Weekend Experience
Of course, this isn't just a quick jaunt — you'll need a couple days to antique, explore, and nosh your way through our Thrift & Sweets Trail. Clean and comfortable lodging options are clustered in Saint Robert. Airbnbs and rustic Ozarks resorts dot the countryside throughout Pulaski County. Consider three overnights while planning. We recommend arriving Thursday evening and departing Sunday morning.
Of course, this isn't a complete list of everything to discover in Pulaski County. Make your weekend plans perfect by customizing your antiquing adventure. Visit our Shopping page to learn more about Pulaski County merchants and discover group crafting events you can weave into your itinerary. Our merchants and restaurateurs are flexible, so their hours may change. Call ahead to confirm hours for the locations that interest you most.
Day 1
Journey along the tracks of the former Frisco Railroad. Two-lane Highway 133 twists though gentle rolling hills of rural, agricultural landscape, connecting the country towns of Dixon, Crocker, and Richland. All these communities — and the "ghost towns" you'll stumble across along your route — sprang to life in 1869 as the railroad laid its path across northern Pulaski County.
Dixon & Crocker: Railroad Boomtowns
Rummage through Whatever Antiques & Collectibles. This store is stuffed with tchotchkes, retro furniture, housewares, and more. Chat with owners Wanda, Harry, and Aunt Flo during your visit.
Thrift shop aficionados will want to add Dixon Area Caring Center to their tour. Yard sale pricing makes shopping here even more enticing. Your purchases here also give back to the less fortunate in the Dixon area. Before leaving Dixon, grab an old-fashioned cherry malt at Jackie's Snackette to savor en route to your next destination!
Triple Creek Antiques is a welcoming antique store full of treasures waiting to be rediscovered. Triple Creek also specializes in primitives. Penaroyal Antiques & Collectibles recently relocated to Crocker, just across the street from the Caboose. They continuously bring in new items discovered at estate sales and auctions.
Before continuing west on Highway 133, dip south on Highway 17 to Bear Ridge Antiques. This beautifully staged antique mall is home to 65 dealers. Treasures overflow in vendor booths that are frequently updated, clean, and inviting. Forage through the outdoor storage compartments, many set up as booths. Tell Dee we sent you!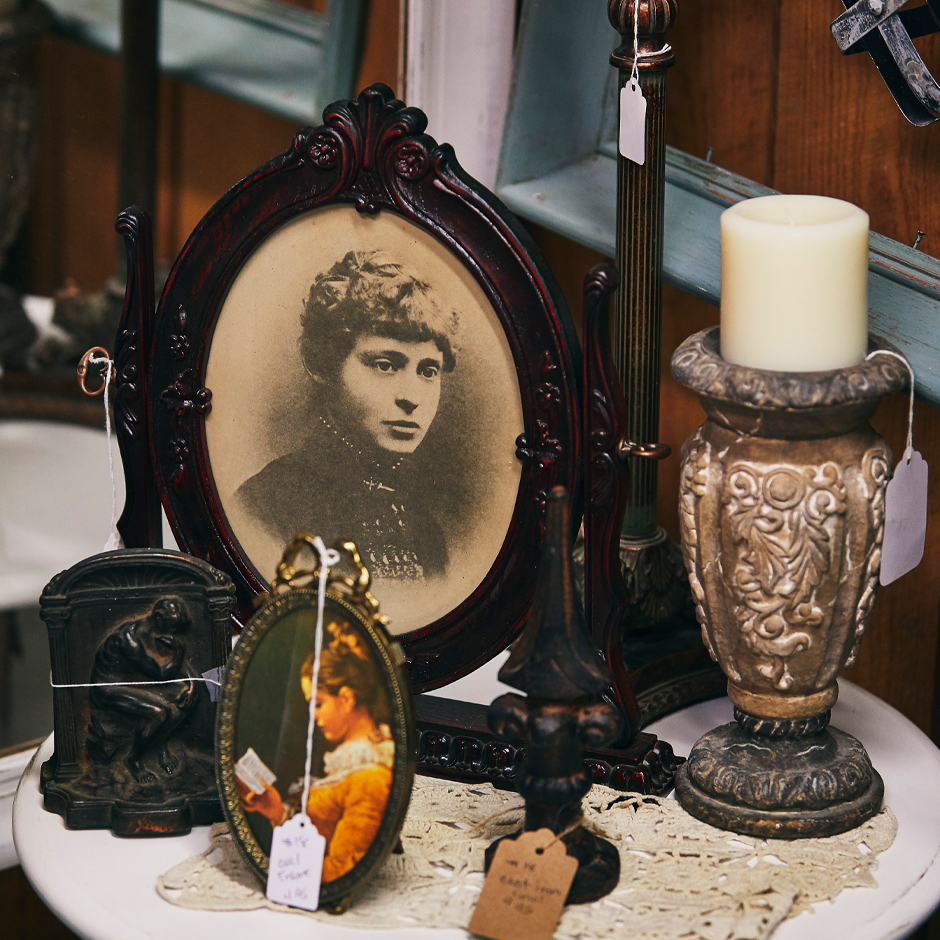 Richland: Entrepreneurs Since 1869
After leaving Bear Ridge, backtrack north to Highway 133 West and continue to Richland. Grab a quick bite at The Burger Stand — try the Mr. Neal Burger! This local favorite is a bacon cheeseburger with double bacon and cheese, topped with jalapenos and a fried egg. The Burger Stand doesn't have indoor seating, so be prepared to dine at one of their shaded picnic tables. Those with an eye for vintage signs will recognize The Burger Stand's sign as a rare "Curly the Clown" Dairy Queen sign dating to the mid-1950s.
Die-cast collectible fans must treat themselves at Final Stop Die-cast Collectibles & More. This shop specializes in Hot Wheels, Johnny Lightning, Green Light, M2, and Ertl products and is guaranteed to bring out the kid in everyone. Next door, you will discover great finds in Final Stop Antiques & Collectables, featuring unique home decor items.
Just down the street from Final Stop is Sanctuary Quilts and Coffee, housed in the architecturally blessed former Methodist Church. Sanctuary has made a name for itself with an abundant selection of fantastic coffee and an impressive quilting room. Don't forget to swing by You Name It Resale for some amazing deals!
A trip to Richland wouldn't be complete without exploring H.E. Warren Store. Founded by Capt. Henry Ernest Warren in 1869, Richland's oldest business is still owned and operated by the Warren family more than 150 years later.
Missouri Wines & International Flavors
Round out your day by sampling award-winning craft beers that celebrate life in the Ozarks at Piney River Taproom Brewery. International dining options in Saint Robert include Ichiban Japanese Steakhouse & Hibachi and Mama Mia Authentic Mediterranean. Finally, The Hub Restaurant & Lounge has been dishing out delicious German fare since 1971.
Read more about the incredible dining options in Pulaski County.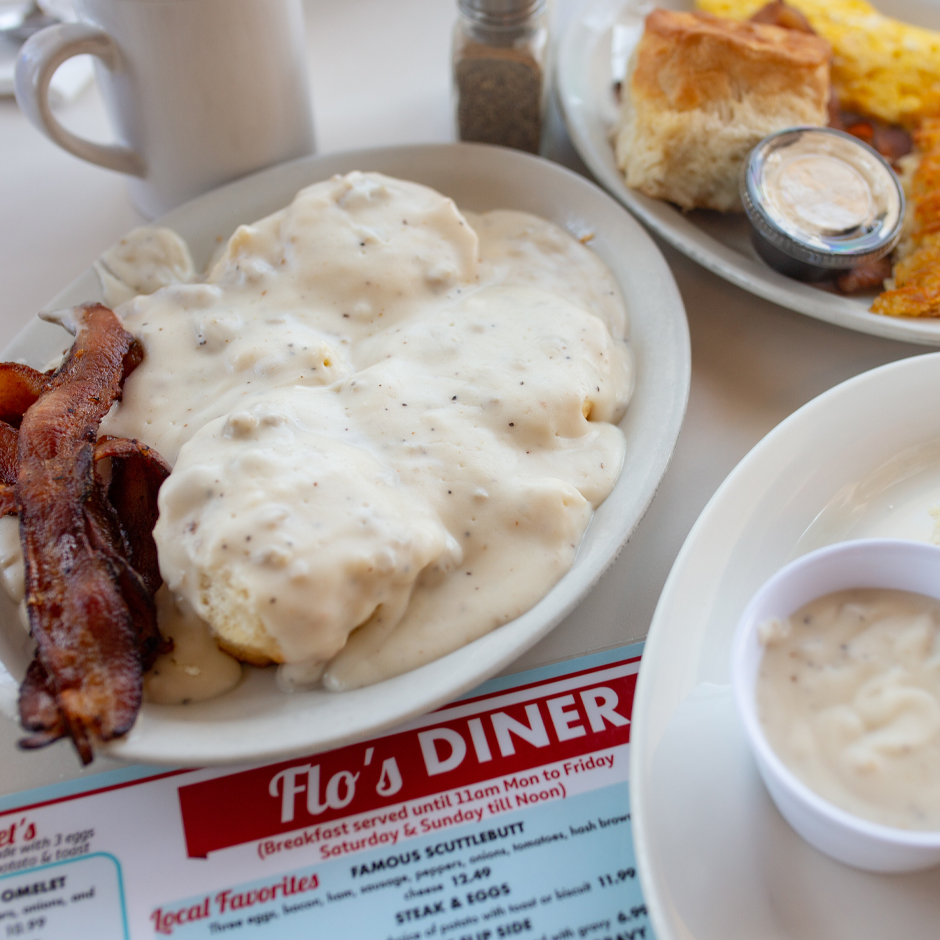 Day Two
Spend your second day on our 33 miles of Historic Route 66. The famous Mother Road was commissioned in 1926 and incorporated former Missouri Highway 14, which was the main east-west road in Pulaski County at the time. We recommend grabbing a copy of the Historic Driving Tours and the Waynesville Walking Tour brochure at our Digital Download page to accompany you. Both are available for free at Pulaski County Tourism Bureau & Visitors Center, 137 St. Robert Boulevard, Suite A, Saint Robert.
After a refreshing night's sleep at one of Pulaski County's clean, comfortable lodging options, begin your day with a handmade, premium donut from Master Donuts in Saint Robert or Waynesville, or dive into a classic diner breakfast at Route 66 Diner or Flo's 66 Diner.
Next, visit New Look Consignment Shop, a 20,000-square-foot reseller's dream. New Look donates a portion of its revenue to sponsor children with autism — in fact, the owners are working to open a musical birthday closet for autistic children. Looking to help support some furry friends? Goods sold from this shop also support the Kitten and Puppy Division, a local animal rescue and adoption center. Shopping here is a win-win situation!
Follow Missouri Avenue to its junction with Interstate 44 and head east to Exit 169/J Highway. This is the beginning of the Route 66 self-guided tour through Pulaski County. The brochure will be your roadmap for your thrifting and antique itinerary throughout Day 2 of your trip.
Route 66: America's Mother Road
Uranus Fudge Factory and General Store is a must-stop on Route 66. A cheeky nod to the tourist traps along the highway during its heyday, shop for fresh fudge, nostalgic candy, and novelties. Peruse strange oddities and circus memorabilia at the Sideshow Museum. Roam the grounds for hilarious selfie opportunities!
Next, hop over to Hoppers Pub for lunch. Their menu is packed with pub grub favorites and 66 beers on tap. Or have a taste of Bavaria at Ursula's Schnitzelhaus. If you happened to bring a cooler, stock up on European sausages, cheeses, and chocolates from Ursula's on-site deli.
Lost in the Woods Antiques & Collectibles is veteran-owned and features uptown antiques in downtown Waynesville. Music from the 1950s plays on their Wurlitzer and free hot coffee is provided for you while you browse. This is a must-visit destination for vintage vinyl junkies!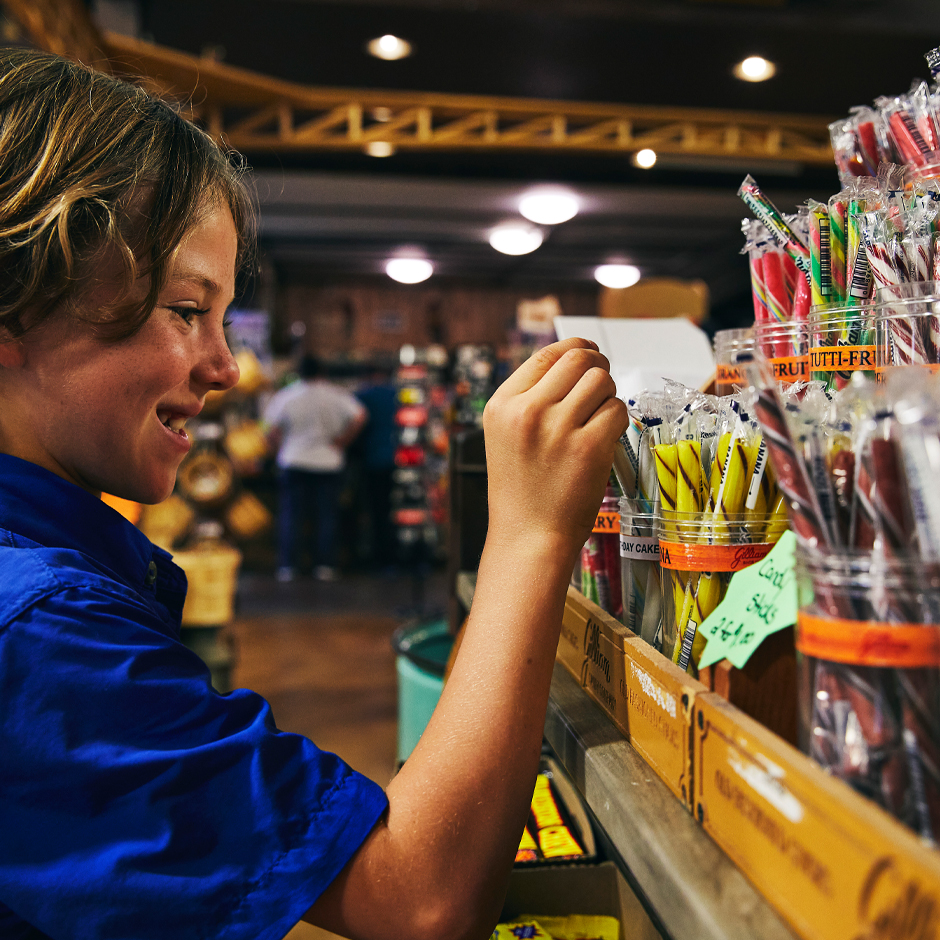 Extend Your Stay — Hit the Bins!
Make Pulaski County your home base to visit numerous bin stores within a one-hour radius! Head west on Day 3 and find your deals, come back to Saint Robert for the night, then head east for the fourth day of shopping delight!