Stories
March 2023 Events
March 2023 Events
March 1, 2023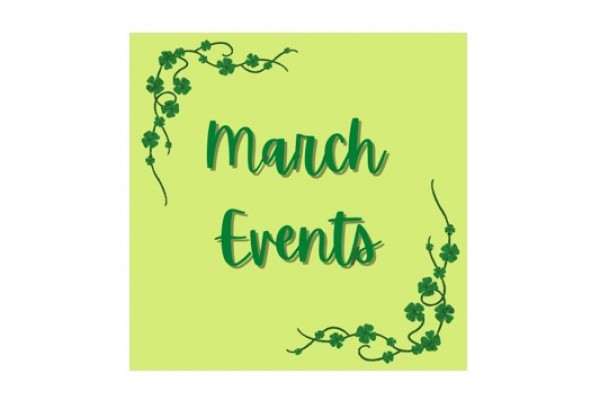 March 2023 Events
Please contact the event planner for updated event details or more information!
Pulaski County USA Signature Events listed in red.
Taste of Pulaski County - March 6th thru April 15th Come taste the fabulous flavors throughout Pulaski County! Purchase a passport at the Waynesville St. Robert Chamber of Commerce, try out the deliciousness from participating restaurants, then turn in your passport for a chance to win a prize! Get passports 137 St. Robert Blvd. Ste B. St Robert, MO 65584 More details at TasteofPulaskiCounty.com

March 4th: 12th Annual Payin' for the Spayin' Help support the Pulaski County Humane Society / Loving Paws Adoption Agency and enjoy this 5K fun run benefiting some furry friends! Your own furry friends are welcome to join you too at the run! Begins at 10 am in Crocker City Park at 113 Park Street in Crocker, MO 65452.
March 11th thru 12th: 7th Annual Racing for the Daylight If you are looking forward to daylight savings time, come be there when the time changes during this 12 hour fitness event. You choose the time frame and distance you wish to participate, can be walked, run, rucked or ridden on a 5-mile loop course. Begins at 6 pm March 11th and ends at 7 am March 12th. Location Changed to 163 Revere Lane (Pulaski County Farmer Market Pavilion) in Waynesville, MO 65583 Free event, but event fee recommended for One Sole Purpose.

March 21st: Micro Wrestling All Stars Rodeo Rumble Come see the Micro-Wrestling All Stars, live and in action at this great wrestling event, it will surely take you to the extreme! Doors open at 6:30 and bell rings at 8pm Club Rodeo 819 Hwy Z in Saint Robert, MO 65584 Tickets are required.
March 17th - 19th & March 24th – 26th: Robin Hood The Musical Come enjoy this new tale of Robin Hood at this live theater show presented by PFAA. Friday & Saturday shows begin at 7:30 pm and Sunday Shows begin at 2:30 pm at Theater on the Square 312 Historic Route 66 E in Waynesville, MO 65583 Tickets required
March 24th & 25th: Kickin it Route 66 BBQ Challenge A KCBS sanctioned BBQ competition and on Saturday a Kids Q Competition, silent auction and smoker raffle as well as tasty plates of BBQ to eat! St. Robert Community Center 114 JH Williamson Jr. Dr. in Saint Robert, MO 65584 5K Color Run is Canceled, to be rescheduled due to inclement weather!
Note Worthy Community Events
March 2nd: Piney River Tap Room Birthday Celebration Come enjoy some live music, tasty treats, and your favorite Piney River beer, and help celebrate our birthday!! Cheers to three years!! Piney River Tap Room 326 Route 66 E. in Waynesville, Mo 65583
March 9th: Murder Mystery – The Unloved Boat Depart at 6:30 pm on a luxury Hawaiian cruise where a much-hated advice columnist will be sailing into her final port of call. The "Unloved Boat" a one of a kind comedy where some of the audience may even be a part of the mystery! Reservations from 17 February to 9 March & Fort Leonard Wood Access is Required
March 11th: Fort Leonard Wood Clover Dash 5K Check-in from 8 am - 8:45 am. Race registration and FLW post access required. Davidson Fitness Center on Fort Leonard Wood, MO 65473
March 18th: Luck O' the Irish Trivia Put your brain to use and get a team together of 6 or less and join the American Legion Riders to compete for some great prizes. Registration begins at 5:30 pm and trivia begins at 6 pm. American Legion, 484 N. Outer Rd. in Saint Robert, MO 65584.
March 25th: Family Safety Day A family friendly Free Event with fire trucks, food, games, safety information and more! 11am to 3 pm at the Waynesville rural Fire Protection District Training Center 25785 Red Oak Road in Waynesville, MO 65583
March 25th: Bike Night sponsored by Combat Veterans Motorcycle Association begins at 7pm at VFW Post 3168 at 26050 Swindell Dr. Richland, MO 65556
Reoccurring Events in Pulaski County
Every Saturday: Pulaski County Farmers Market* This weekly, year round market features fresh produce, baked goods, locally roasted coffee, tea, live plants, crafts, pet items, kid vendors and other home-made goods. Local authors, special vendors & food trucks vary by season. 8 am - noon at the Farmers Market Pavilion, near the Roubidoux Spring Campground in Waynesville, MO 65583 *Vendors and product availability dependent on weather and other factors.
Every Wednesday & Thursday: BINGO! Come join the fun on Wednesdays & Thursdays at the American Legion beginning at 6:30 pm. Richland Post #240 - 1100 Pine St. in Richland, MO 65556 For inclement weather, schedule changes, or event updates follow - American Legion Post 240 on face book
Every Sunday: BINGO! Come join the fun on Sundays at the VFW. Bingo begins at 2pm, doors open at 12 pm at the Ozark Memorial Post #337 – 17305 Superior Rd. in Waynesville, MO 65583 For inclement weather, schedule changes, or event updates follow - VFW Ozark Memorial Post 3176 on face book
Every Third Saturday: Free Donut 5k Run / Walk This family friendly, fun event begins at 8 am at Roubidoux Park in Waynesville, MO. This 3.1-mile fun run is family and stroller friendly and can be run, walked, or rucked. Free donuts to follow! (Monthly Location subject to change.) For inclement weather, schedule changes, or event updates follow – Healthy Futures Pulaski County on face book.
Mark the Date for April
April 1st - Roubidoux Bridge Century of Service Celebration -Location change announcement 3/24/23. Event moved to the Waynesville City/Roubidoux Park due to the initial location being impacted by floodwaters.
April 15th – 5th Annual Hanna Hills Open Disc Golf Tournament
Upcoming Signature Events to Look Forward to!
Pulaski County Regional Fair - June 14th thru 17th
Old Settlers Days - July 29th & 30th
Route 66 Yard Sale - August 4th & 5th
Railroad Days - September 9th
Fall Festival Cow Days - September 15th & 16th
Route 66 Hogs & Frogs - September 22nd thru 24th
Frog Hill 5K / 10K / & Half Marathon - October 6th & 7th
Nasty Pulaski Gravel Grind Bike Race - October 7th
Light Up Pulaski County - December 7th thru 26th
Journey to Bethlehem - December 8th & 9th
We love sharing Pulaski County events, but unfortunately, sometimes event information changes suddenly. Be sure to check with the event planner with questions and updated or additional event details.
Not seeing an event here? Be sure to check the event calendar often for additional events and information, calendar is updated weekly!
Have an event in Pulaski County you'd like to share? Be sure to submit your great event to the Pulaski County USA Event Calendar!