Stories
Get Your Military & History Fix!
Get Your Military & History Fix!
April 20, 2023
Meet Your Army & 16th Annual Best Sapper Competition - Waynesville - April 21st
Be sure to check out this event that is sure to be full of action! This special Meet Your Army event is an opportunity for the public to engage and participate in hands-on experiences with service members with military vehicles and other static displays for the community to see up close. This special event, hosted by the Fort Leonard Wood Mid-Missouri Chapter of AUSA, (The Association of the United States Army) allows the public the opportunity to watch Soldiers compete in a portion of the 16th Annual Best Sapper Competition. Sappers from across the United States Army will compete to identify the best the Engineer Regiment has to offer through multiple days of rigorous physical and technical tasks. The evening excitement begins with the opening ceremony at 1630 (4:30 pm) followed by the competition kick off 1700 (5:00 pm) at Roubidoux Park in Waynesville for all to watch and observe. After viewing the Best Sapper competition up close and in person, the action continues with exploring multiple military vehicles, static displays and K-9 handlers. There's more fun with Waynesville High School JROTC, other hands on activities, and the opportunity engage with community and Fort Leonard Wood leaders. AUSA invites the community to stay following the competition for a free meal and fellowship, providing additional time to interact with Soldiers.
Some military vehicles and items to be on display may include: Stryker (NBCRV) and crew, Inflatable Combat Raiding Craft (I-CEC) Boats, Recovery Boat, Military Police Vehicle and Drivers, Buffalo with Talon Robot, Bridge Transporter with Bridge Erector Boat, M113, K-9 team and more! Be sure bring your camera, friends, and children for this unforgettable event! THIS IS A FREE EVENT AND OPEN TO THE PUBLIC!

The Custer and Civil War Exhibit - Dixon - April 22
Stop by the Jessie E. McCully Memorial Library on Saturday, April 22nd from 10 am to 1 pm to view this special Custer and Civil War Exhibit and collection. Mr. Dale Wagner will be sharing his collection of Custer and Civil War items. This unique display includes a complete pictorial history of Custer and the Custer family book plus a lot of Civil War memorabilia. Be sure to attend this great event and view this wonderful collection. Want to feel like you're actually there? Visit with the Civil War reenactment actors to take a step back in time! While at the library, scope out the great history books to and read while you're there, or check them out to read later (some requirements may apply for book check out.) Coffee and light refreshments will be served. This event is at Jessie E. McCully Memorial Library, 200 S. Pine St. in Dixon, MO 65459 This informative and fun event is free!
The Old Stagecoach Stop Museum - Waynesville - April 22nd (and Saturdays April thru Oct)
Round out your weekend of history with a visit to the Old Stagecoach Stop Museum. This building from the 1850's, listed on the National Register of Historic Places, was saved from demolition in 1982. The Old Stagecoach Stop, also known as the Waynesville House, a double pen log building, and was a regular stop on the St. Louis to Springfield stagecoach route. The Old Stagecoach Stop was commandeered during the Civil War and served as a medical hospital during that time period. After the Civil War, during the 20's and 30's it was a boarding house and hotel frequented by Route 66 travelers. During the building boom of Ft. Leonard Wood, rooms were rented out to construction workers staying in the area to build the post in preparation for World War 2. This great historic gem contains several rooms of history unique to it's different time periods and has one room of artifacts that were discovered during the excavation of the building. Tour guides dressed in period costumes share the building's past, making this history come to life! The Old Stagecoach Stop Museum is open every Saturday, April through October, from 10 am to 4 pm and is located on the historic square at 106 Lynn Street in Waynesville, MO 65583 Entrance and tours of this museum are free, but donations are appreciated. Museum is also open to group tours and busses by special arrangement.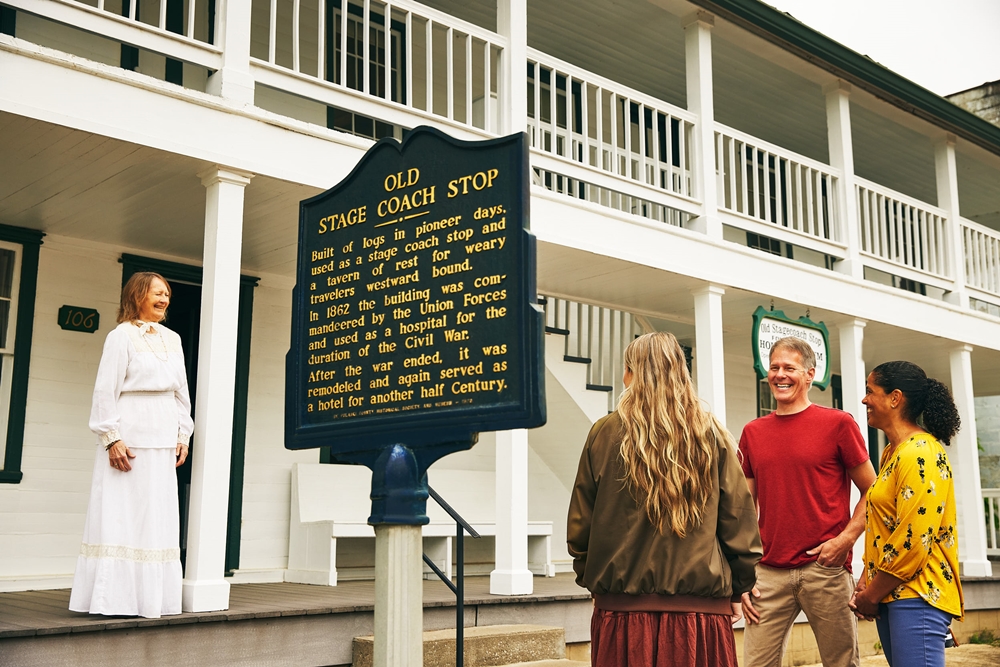 More History to Explore



Additional history opportunities in Pulaski County can be explored with self-guided turn by turn Historical Auto Tours of Route 66, the Frisco Railroad or Fort Leonard Wood. The 1903 Pulaski County Courthouse Museum in Waynesville is open on Saturdays from May thru October with a special historical presentation of The Life and Architecture of Henry H. Hohenschild on May 13th. The Crocker Frisco Depot Museum is open on every third Saturday from April thru October and the Fort Leonard Wood Mahaffey Museum Complex is open Monday thru Friday 8 am - 4 pm and on Saturday 9 am - 3 pm. Check Fort Leonard Wood post access requirements prior to visiting their museum or doing the FLW driving tour. For more great events in Pulaski County USA be sure to check out the event calendar and the Pulaski County Signature Events.