Relax Along Our Riverways
Relax Along Our Riverways
Relax Along Our Riverways
Float the Peaceful Waters of Pulaski County
Wide-open rivers await you — Pulaski County outfitters are ready to assist you. Pack the essentials — wading shoes, sunscreen, snacks, and drinks. For those looking to reel in a trophy bass, pack your gear and your fishing pole. Our friendly outfitters will provide the rest! Choose your vessel of choice — safety vests and litter bags are included. Your outfitter will settle you in at the drop-off point. Then, just sink in and relax. Take in the scenic river views. Wash away the worries of everyday life. Watch for wildlife — turtles sunning, deer, birds, and the beautiful dragonflies. Stop along the riverbank and spend some time swimming, skipping rocks, and enjoying nature.
At the endpoint, pull the vessel to the bank and head on over to your home base to rest up and grab a delicious meal at one of the many restaurants. After a peaceful day on the river, cozy up to a crackling campfire a camp, or head back for a great night of sleep at one of the local hotels or vacation homes.
Pulaski County's Riverways
Plan a few days along our pristine rivers. Each river and section offers different views and experience. Watch river levels prior to floating. If you plan to fish, familiarize yourself with Missouri fishing regulations.
The Gasconade River is wider and moves slightly faster. The northern-eastern section runs along bluffs and rural homes, while the western section glides through farmlands ending at the Route 66 Gasconade Bridge near Hazelgreen. Putting in just north of Waynesville above the confluence of the Roubidoux Creek takes you along a five-mile float.
The southern section of the Big Piney near Duke affords views of breathtaking bluffs or float the central to northern section weaving through Devils Elbow off Route 66.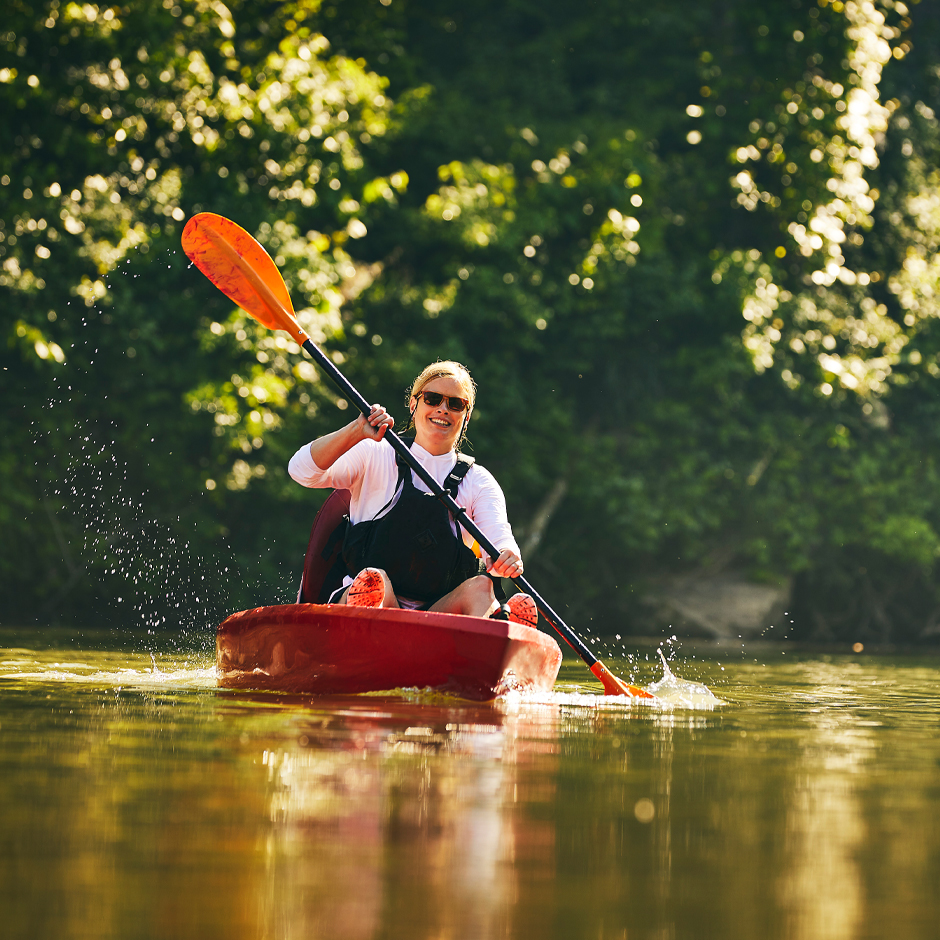 Canoes, Kayaks, & More
Float trip excursions are available for beginners, from shorter three- to four-hour experiences to multi-day adventures for the advanced. Most outfitters offer a variety of vessels, including traditional canoes for two and rafts for the whole family. Kayaks (double and single) are a huge hit with friends. String together inner tubes and lazily float along, or for those with grace and balance, try a paddleboard.