Route 66 Neon Park
Route 66 Neon Park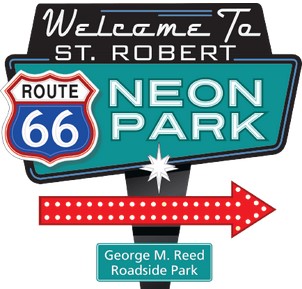 Route 66 Neon Park
Saint Robert Route 66 Neon Park
Coming Soon! Fall 2023/Spring 2024
The City of Saint Robert has rescued signs that were rusting away in fields, were threatened to be destroyed, or hidden away in storage. The signs are at various stages of restoration and will be installed at the George M. Reed Roadside Park, situated along historic Rout 66 west of the Route 66/Z Hwy/Missouri Ave. junction. Start watching for announcements for the opening of the Route 66 Neon Park.
Once the signs are installed, they will light up the evening sky. You will be able to park and access lighted pathways to the view the signs up close. At the base of each sign, lighted storyboards share the history of each sign. There will be no admission fee to enter the park.
Learn more about the City of Saint Robert Route 66 Neon Park, and to order your brick to be placed within the park.
Would you like updates about the St. Robert Route 66 Neon Park? Fill out the form below!