Events
KY3 Survive The Storm Tour
KY3 Survive the Storm Tour
Venue
Waynesville High School Auditorium
200 G.W. Lane Street
Waynesville, mo 65583
Event Organizer
Tom Mast / Masterful Events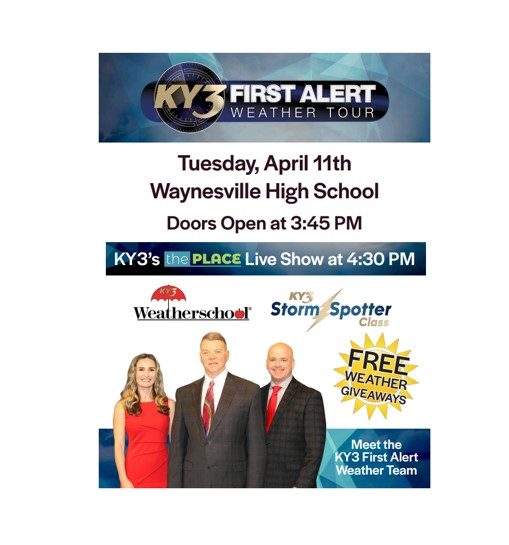 Additional Information
KY3 Survive the Storm Tour
Tuesday, April 11th
3:45pm - 6 pm
Waynesville High School Auditorium
200 GW Lane St.
Waynesville, MO 65583
Join the KY3 Weather Team and select KY3 News personalities for the KY3 Survive the Storm Tour stop at Waynesville High School for a community gathering to educate individuals on weather safety and preparedness.
Doors to the event will open at 3:45pm with the program beginning at 4:30 with a presentation of The Place "live".
This will be followed by weather training and instruction from the KY3 Weather Team of meteorologists starting at 5:00pm.
Community visitors will have the opportunity to win prizes and interact with the staff during the entire event.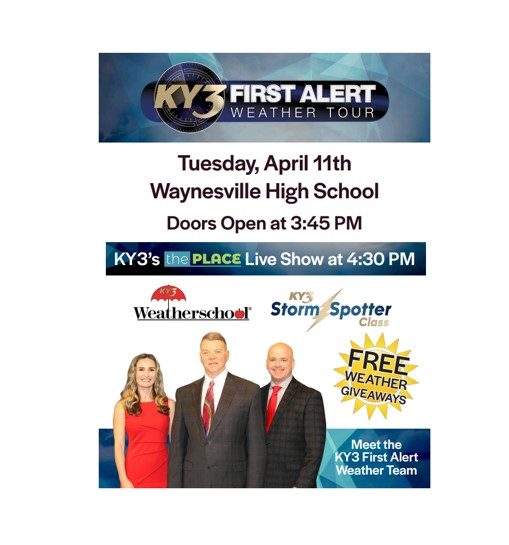 Additional Information