Stories
August 2023 Events
August 2023 Events
July 25, 2023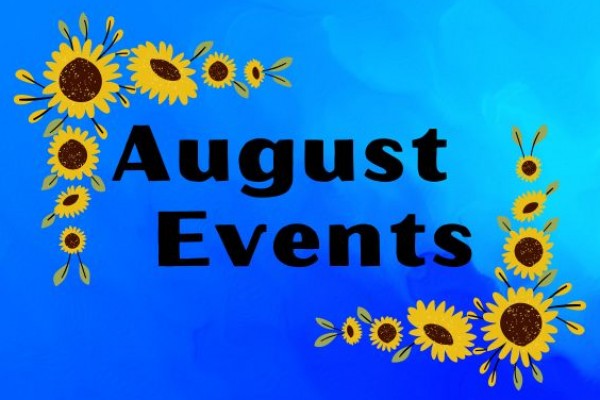 Pulaski County USA Signature Events are listed in

red
Please contact the event planner for additional details or event updates!
August 4th & 5th: Route 66 100 Mile Yard Sale Calling all thrifters, pickers, and resellers or just someone looking for a bargain while exploring Pulaski's 33 miles of Route 66. If you love Route 66 and enjoy yard sale hopping this event is for you! Enjoy this beautiful section in Pulaski County (and the other 67 miles) in this 100-mile yard sale covering great deals, bargains or treasures and fun along the way. Come get your kicks and bring your wallet because deals are bound to be found! Come for the day or spend the weekend. Sales locations are located throughout three counties with maps of all locations and sales locations in Pulaski County.
August 1st: National Night Out 6 pm - 9:00 pm Local vendors, Law Enforcement, State Conservation, Fire Department, Local Civic Groups, Churches and Businesses as well as farmer market vendors for this community-building campaign that promotes police-community partnerships and neighborhood camaraderie. at Pulaski County Farmers Market Pavilion in Waynesville, MO 65583
Additional Noteworthy Events
August 5th: Fabulous Fakes 5 pm - 7:30 pm An evening of music through the ages and dinner benefits the Little Prairie Bible Camp. Meals served by celebrity impersonators and great music to enjoy! Who will serve your meal? The entrance fee includes entertainment and dinner. Music at the Barn 13015 Hwy 28 in Dixon, MO 65459
August 5th: Black Light Bash Bingo 7 pm - 10 pm Get your ticket in advanced (or at the door) and come play blacklight bingo to benefit the Waynesville / St Robert Senior Center, steak dinners also available at additional cost. VFW Post 3168 at 26050 Swindle Drive in Richland, MO 65556
August 19th- 20th: 5th Annual BAD DAWG Ultra Endurance Race begins at 6 am on Saturday and ends at 12 pm on Sunday. This no-frills 100/50/100k/50k race and 12-mile run/ruck is the perfect event for those people who love running for a purpose and is a great race for those first-time ultra runners or for those wanting a shorter distance. Fund raiser event for One Sole Purpose at 5785 Red Oak Road in Waynesville, MO 65583
August 19th: The King Returns 6 pm - 9:30 pm An entertaining evening with a 90-minute live show and four course dining experience to keep you rocking and rolling all night long! Advanced purchase tickets required, no tickets to be sold at the door. Rendezvous Event Center 743 Missouri Avenue, Suite 2 in St. Robert, MO 65584
August 25th Know Your World 6 pm - 8 pm A great experience with the International Military Students showcasing food, culture, and customs from 42 different countries. Hosted by the International Military Student Office. This event is free and open to the public at Nutter Field House, Ft. Leonard Wood, MO 65473.
August 24th: AUSA Annual Golf Tournament Shotgun start at 10am Annual Golf Tournament to raise funds for AUSA scholarships. Registration includes 18 holes of golf, range balls, cart, and a meal. Piney Valley Golf Course 10221 Water Intake Road on Ft. Leonard Wood, MO 65473
Museums
Every Saturday: Old Stagecoach Stop Museum 10 am - 4 pm The oldest building in Pulaski County built by W.W. McDonald in the mid 1850's and contains 10 rooms of history that have been restored to a different significant period in building's past. 106 Lynn Street in Waynesville, MO 65583 Busses, groups, and other visitors are welcome by appointment. Entrance is free but donations are appreciated.
Every Saturday: 1903 Pulaski County Courthouse Museum 11 am - 4 pm Local Pulaski County History Museum containing local history exhibits, original courtroom, displays of Trail of Tears, Civil War, WWI, WWII, collection of cameras, quilts and antiques. 303 Historic Route 66 E. in Waynesville, MO 65583 Entrance is free, but donations are appreciated.
Every 3rd Saturday, August 19th: Frisco Depot Museum 10 am - 2 pm Displays representing the history of the Frisco Railroad and featuring local collections of railroad memorabilia. Also open for groups by special arrangement. 109 10th Street in Crocker, MO 65452 Free Admittance
Farmers Markets and Other Reoccurring Events
Every Saturday: Pulaski County Farmers Market* 8 am - 12 pm This weekly, year round market features fresh produce, baked goods, locally roasted coffee, tea, live plants, crafts, pet items, kid vendors and other home-made goods. Local authors, special vendors & food trucks vary by season. Farmers Market Pavilion, near the Roubidoux Spring Campground in Waynesville, MO 65583 *Vendors and product availability dependent on weather and other factors.
August 5th: First Saturdays Art Show 9 am - 2 pm A monthly art show and event featuring a unique collection of artists showcasing their works of Route 66 inspired pieces. Many different types of work from a wide variety of art styles and from artists of all ages! Route 66 Community Art Gallery located at 26062 Hwy 17 in Waynesville, MO 65583
August 4th, 5th & 6th: Buckhorn Route 66 Swap Meet and Route 66 100 mile Yard Sale - Set up & shopping begins at 6:30 am and swap meet runs until vendors are done selling. A unique swap and shop environment, you never know what you'll find, vendors vary each swap meet! Located near the Interstate Plaza, right off I-44 at exit 163 and Route 66 in Waynesville, MO 65583
August 12th & 26th: Crocker Farmers Market* 9 am - 1 pm This farmers market features only handmade, homegrown or up-cycled items with food and beverage vendors on site and food trucks on occasion. Crocker Community Park under the blue pavilion in Crocker, MO 65452 *Vendors and product availability dependent on weather and other factors.
Mark Your

Calendar

for September!
Pulaski County Signature events are listed in Red
September 2nd: Adult Prom
September 9th: Crocker Railroad Days
September 9th: Patriot Day Festival
September 12th: Tigirlily Gold
September 15th & 16th: Dixon Cow Days
Beginning September 16th: Haunted River Float
September 16th & 17th: Extremicon
Hogs & Frogs 22nd - 24th: Route 66 Hogs & Frogs Festival
Check out the Pulaski County event calendar for additional happenings like: Pulaski County Staycation Giveaway, Summer Fest on Ft. Leonard Wood, Food Preservation Workshop, Free 5K Donut Run, nightlife activities, bingo and much, much more! New events are added weekly.
Be sure to visit PulaskiCountyUSA.com and plan your adventure today!
*We love sharing Pulaski County events, but unfortunately, event information can change suddenly so be sure to contact the event planner with questions and for updated or additional event details.