Stories
Dine Al Fresco
Dine Al Fresco
February 2, 2023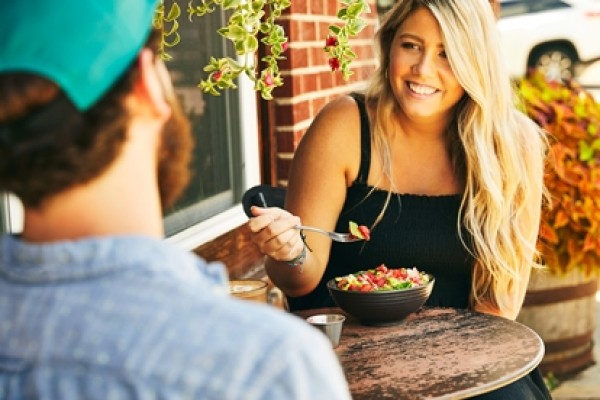 The warm weather is the perfect time to enjoy outdoor dining in Central Missouri. Sip and savor your favorite drink while lingering over a delicious meal for brunch, lunch, or dinner. Check out a sampling of open-air eateries around Pulaski County. Of course, check individual websites and social media channels to confirm the latest information, hours, and specials.
Crocker
Burger Hut — Amazing burgers, hot dogs, and chicken. Finish it off with creamy, soft-serve ice cream.
Dixon
28 Shots Bar & Grill — Delicious, full menu offered for lunch, dinner, and late night. Outdoor dining offers tables under a covered pavilion and tables with umbrellas.
"People enjoy sitting outdoors and listening to bands play and talking to their friends." — Gwen Miles, Owner
Jackie's Snackette — Order up, settle in at the picnic tables, and enjoy burgers, shakes, or try the BBQ grilled chicken wrap with fries or tots. Two of four tables provide umbrella shade.
"Our painted tables are very cute. We have also planted flowers. It has made the atmosphere inviting." — Chelsey Doyle, Owner
Richland
The Burger Stand — Order up a delicious shake and huge tenderloin sandwich!
Saint Robert
Agave Azteca Mexican Bar and Grill — Order the amazing Nachos Locos with the house margarita or "Trash Can" and enjoy a cool lunch or an evening under the stars.
Buffalo Wild Wings — Enjoy an amazing array of wings, relaxing under their outdoor covered patio.
Colton's Steakhouse — Known for their steaks, peanuts, and melt in-your-mouth yeast rolls with honey butter!
"Our outdoor patio is shaded by umbrellas and an overhanging ledge. The experience draws diners outside to enjoy!" — Chris, Owner/Operator
Culver's — Known for "butterburgers" but offering so much more, including fried chicken, fish, and frozen custard.
"Tables with umbrellas in a secluded atmosphere makes diners enjoy eating outdoors" — Culver's representative
El Cabrito Mexican Restaurant — Start your dining experience with salsa on our outdoor patio or sidewalk seating. Tables include umbrellas.
"People enjoy the weather and sitting to enjoy drinks and company of those with them." — Antonio, Owner
Freddy's Frozen Custard & Steakburgers — Guests love the famous cooked-to-order burgers and freshly-churned frozen custard while dining in or out on the patio. Concrete tables with umbrellas are available.
"The weather is a big draw for customers in deciding to eat outdoors or wanting to enjoy the company of the people they came with." — Santana, Assistant Manager
Ichiban Japanese Grill — Dine for lunch or dinner at sidewalk seating. Featuring a full menu with sushi, Bento boxes, and made-to-order grill items that are as pleasing to the eye as they are to the palate.
JCJ's Place — Known for their amazing breakfasts, lunch and dinner will also be enjoyed at two outdoor dining areas. Features plenty of room!
"Our outdoor dining area in the front allows customers to see cars cruising Route 66! The back area has cornhole boards and often features music! The ambiance allows people to enjoy their food and drinks — and people!" – JCJ representative
La Familia Mexican Restaurant — Enjoy a wonderful plate of Sour Cream Enchiladas seated at outdoor tables with umbrellas.
Mama Mia Authentic Mediterranean — Known for their amazing gyros, but their plates of pasta will also win your heart. Several outdoor tables are available with umbrellas.
"Many of our locals and customers from the hotels, come with their dogs. This also allows people who want to enjoy an open-air atmosphere." — Maria Makridis, Owner/Operator
Panera Bread — Enjoy their fenced-in outdoor seating with umbrellas, Flat Bread Pizza, delectable salads, or just relax with your coffee and souffle.
"People enjoy the quietness of sitting and visiting with friends/family and/or reading." — Panera Bread representative
PaPPo's Pizzeria & Pub — Insider tip: An evening enjoying our Deep Dish Brown Butter Chocolate Chip Cookie with a dash of sea salt and topped with vanilla bean ice cream drizzled with caramel and chocolate sauce is an evening you'll never forget!
"The ambiance of the outdoor area makes it comfortable for diners to enjoy their meal." — Rick, General Manager
Sonic Drive-In — Enjoy the traditional Sonic menu under a covered patio or from convenient drive-in stalls.
Starbucks — Order your favorite Starbucks beverage and relax at outdoor tables with umbrellas.
"During family day for soldiers from Fort Leonard Wood [LINK TO: https://visitpulaskicounty.org/fort-leonard-wood/], our space allows large groups of family and friends to sit and visit. Also, internet is available outside, so students like to sit outside and do homework." — Dalen, Manager
Route 66 Taco & Wing Company — Sidewalk dining with crafted tacos and wings made to order.
Uranus Ice Cream Company — Enjoy a variety of ice cream treats or play games under the covered pavilion located next to the playground. The creative artwork on the picnic tables was painted by none other than the First Lady of Uranus.
Swedeborg
Amy's Smoke Shack — Settle down at our picnic tables with umbrellas and enjoy smoked meats served with nachos, tacos, and burritos, or choose traditional BBQ menu items.
"People like having a place to sit and relax when eating!" — Amy Cato, Owner
Waynesville
Drachenfutter — Delicious lattes, bakery items, and a full daily menu to feed your dragon! Enjoy breakfast, lunch, or one of their delicious coffees or pastries at the outdoor patio along Historic Route 66.
"We have several umbrella-covered tables that make sitting outdoors with coffee inviting. An ambiance of rustic and country. Very cute and enjoyable." — Drachenfutter representative
Piney River Taproom Brewery — Stop by and try a beer flight and their famous sauerkraut pizza! Two sidewalk tables are available.
"The physical location and the ability to sit and watch traffic and people walking around the square is what makes our outdoor seating unique." — Matt Beatty, Owner
Roubidoux Plaza — A great day is spent relaxing under the trellis at Roubidoux Plaza, on the Square in Waynesville. Enjoying ice cream from Sam's Sweet Treats around the corner or a hearty meal to go from across the street at Paradise Deli this is the best way to enjoy morning, afternoon, or evening!
Food Trucks — Various food trucks are in Waynesville and Saint Robert offering picnic benches. Choose from the Mardiyama Hibachi or the Roubidoux StrEATery in Waynesville, or MO Ave Food Truck Park in Saint Robert.
For a full list of Pulaski County's restaurants, eateries, and food trucks, visit our Dining page or download our latest "Savor the Flavor of Pulaski County" brochure at our Digital Download page.