Stories
Taco Trail
Taco Trail
February 4, 2023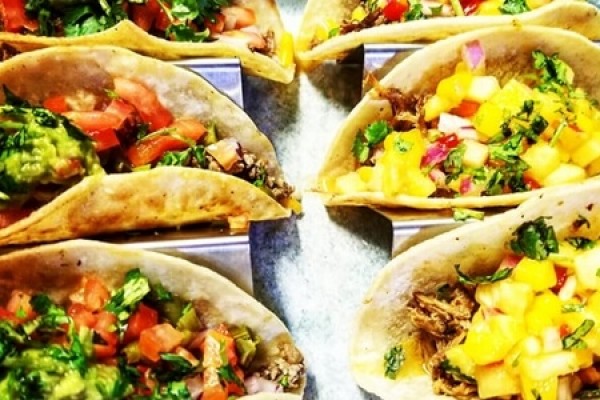 Tacos aren't relegated to only Tuesdays or Cinco De Mayo in Pulaski County! Crunch your way through Saint Robert with our handy Taco Trail!
Route 66 Taco & Wing Company
Route 66 Taco & Wing Company has gathered a legion of die-hard fans. It offers specialty tacos including the Mother Road Taco (seasoned ribeye steak, cheese, guacamole, red onion, tomato, jalapeno, and cilantro) and the Big Kahuna Taco filled with pulled pork and topped with mango-pineapple salsa and cilantro. Raise the heat level with the Nashville Hot Chicken Taco! Route 66 Taco Company also offers Tamale Tuesday specials.
Cancun Mexican Grill
Cancun Mexican Grill offers a menu inspired from the gulf coast of Mexico. The restaurant serves a half-dozen takes on the traditional taco including fajita tacos, pollo tacos, carne asada tacos, and ocean tacos. The tacos al pastor feature grilled marinated pork with onions, pineapple, and cilantro.
El Jimador Mexican Restaurant
El Jimador Mexican Restaurant has been loved by locals for many years. The restaurant has traditional beef or chicken tacos a la carte. It also offers a fajita version of their taco salad, a crisp flour tortilla filled with fajita-style steak or chicken sautéed with onions, tomatoes, and bell peppers and topped with cheese sauce, lettuce, sour cream, guacamole, pico de gallo, and tomato. Steak lovers will savor an order of tacos de carne asada.
El Cabrito Mexican Restaurant
In addition to tasty tacos, El Cabrito is known for its table-side guacamole. The restaurant offers a taco salad, seafood tacos, tacos supremos, and other favorites. Tacos a la Plancha are steak or chicken that has been grilled on a round, flat, metal plate. This cooking method originated in Spain and is a precursor to the flattop grill. El Cabrito serves its tacos a la plancha in a soft shell topped with lettuce, tomatoes, sour cream, and cheese. One of the most requested dishes is Tacos Al Cabrito. Served in a flour shell, these tacos are filled with steak grilled with onions and covered with cheese sauce and served with rice, lettuce, sour cream, and tomato.
La Familia Mexican Restaurant
La Familia has answered taco cravings in the Fort Leonard Wood area since 1998. It serves a hunger-satisfying taco platter with your choice of three crispy corn or soft flour tortillas tacos. You decide if you would like those filled with seasoned ground beef, shredded chicken, or shredded beef. They are topped with lettuce, cheese, and diced tomatoes and served with refried beans and rice. The restaurant also has top-notch tacos de carne asada.
Agave Azteca Mexican Bar and Grill
Agave Azteca offers an amazing choice of gluten-free tacos, such as Caribbean filled with grilled chicken and pineapple, grilled or golden fried beer battered tilapia, and marinated pork.
AVOIN Mexican Kitchen
Avoin Mexican Kitchen's Tacos Al Pastor a wonderful slow-roasted pork marinated with anchio-achiote , onions, cilantro, avocado, cheese, and pineapple, is a dish you won't soon forget!