Events
Sportsman's Banquet
Sportsman's Banquet
Venue
Westside Baptist Church
801 Historic 66 W.
Waynesville, mo 65583
Event Organizer
Ben Rudy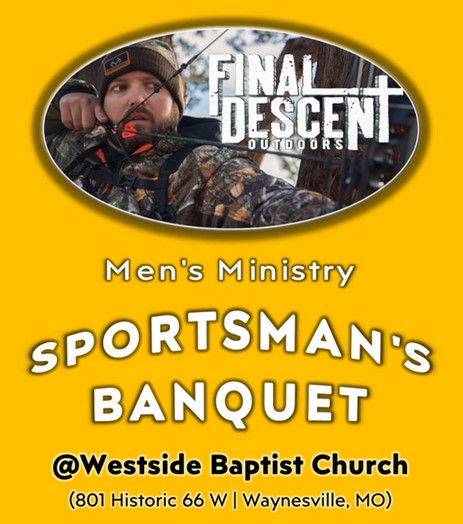 Additional Information
Who: this event is for Men of all ages
What: Sportsman's Banquet
When: September 30th, 2023 / 4:30PM - 8:00PM
Where: Westside Baptist Church: 801 Historic 66 W | Waynesville, MO 65583
Why: Come try and enjoy different prepared game meats and a Sportsman's meal, hear the legendary YouTuber BRAD CLAY from Final Decent as the guest speaker, and have the chance to win giveaways. Should be a fun time. We look forward to seeing you there. Get your tickets before while they last.
Tickets are $15 and can be purchased by calling 573-774-6431.
Doors open at 4:30 PM/Dinner 5:00 PM/Guest Speaker & Giveaways 6:00 PM.
Note: If you would like to be a vendor or sponsor outdoors man, camping, hunting or fishing related giveaways items please contact Ben Rudy @ 573-337-0192.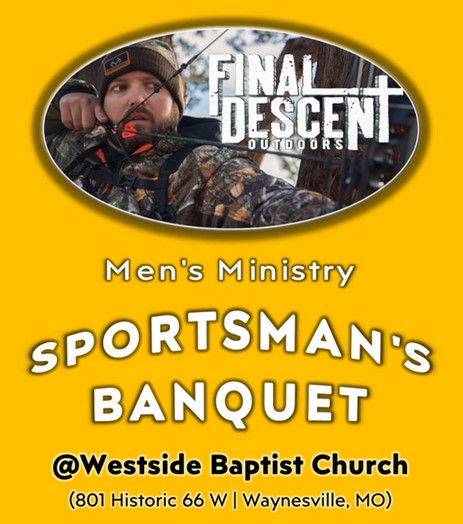 Additional Information